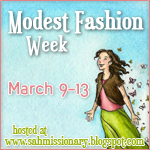 Perhaps you could use some fashionably modest items to spruce up your wardrobe?
Joy at
Stay-At-Home-Mom Missionary
is hosting
Modest Fashion Week
! She is not only posting great info on modesty, but she is also giving away some good stuff! All you have to do is click on the picture above and leave a comment so your name can be entered in the giveaway!